Sunocos 2 Takts Oljor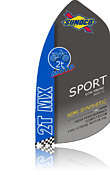 Sunoco 2T MX POWER
Self-mixing mineral 2 stroke engine oil, reinforced with the latest
additive technologies.
Most apt for everyday use in motorcycles at normal to high speeds and loads.

2T MX COMPETITION
Struggling for an hour through a pile of mud or dust at 30°C or more, may undoubtedly be considered as "extreme" racing conditions! Motor cross pilots know all about it. But next to their talent and skill, unmatched horspower is needed to jump smoothly from one impediment to another, leaving all opponents behind. SUNOCO 2T MX COMPETITION provides this power to take these impediments and competitors without any problems. To exclude air pollution, special oil additives avoid smoke exhaust. This fully synthetic 2 stroke engine oil is top quality, especially formulated to ensure maximum protection in all weather and terrain conditions. An engine oil you and the environment can rely on!

Sunoco 2T MX Competition:
Self-mixing 2 stroke engine oil based on synthetic esters and the
latest addetive technologies.
Useable at racing conditions , with constant varying and
continuously high spedds and/or loads.
Sunoco 2T MX Sport 12x1 Liter
Self-Mixing synthetic 2 stroke engine oil, reinorced with the latest
addetive technologies.
Usable under varying conditions and continuously high speeds, as they occur during racing.
Sunoco 2 Stroke MX Power
12x1 Liter
---
Uppdaterat 2021-02-26
Skärpta regler för RC-bränslen (nitrometan) från 1 februari 2021
Utgångsämnen till hemgjorda sprängämnen – sprängämnesprekursorer


Läs mer
Produkter i varukorgen:
0 st
E 100 R Racing Etanol 200 Liter

Vi är stolta att presentera vår senaste produkt R E100R, en ren etanolbränsle, konstruerad för racing. R E100R produceras i England av de europeiska importörerna för Sunoco, världens största racefuel producent. Detta innebär kvalitet.


Se mer
det engelska ordet "Checkmate" härstammar från persiskans "Shah Mat", vilket betyder; kungen är död.
..de gamla grekerna. Hur gamla var de egentligen?
---