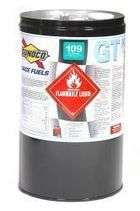 SUNOCO 260GT PLUS (109RON, 99MON and 4.5% oxygen) - Unleaded
A fuel designed for the performance enthusiast who wants a highly oxygenated extremely high-octane unleaded and clean burning fuel. This is the control fuel for SCCA. It is suitable for racing purposes and high performance street vehicles, powerboats, jetskis, motorcycles etc. In fact, engines with compression ratios as high as 14 to 1 will benefit greatly from this powerful, clean and fast burning fuel. It is heavily oxygenated to improve engine breathing and power figures in engines with air fuel restrictors.

It blends with any pump fuel (for those who want to boost the octane of normal petrol) and provides great protection against knock (pinking or detonation). Suitable for pinto engines with small carburettors. Unleaded and contains ethanol as the oxygen carrier. Recent tests have shown that the Sunoco 260GT Plus gives awsome power in highly boosted turbo engines (Nissan Skylines drag cars etc).

Please note that due to the very extreme design of this high power fuel it is by nature very unstable. Make sure that you do not expose the fuel to direct sunlight and do not keep containers open. Do not leave fuel in the vehicle's tank for longer than 48 hours if it is not guaranteed airtight.